ISSUE #1: The First Step
How our relationship with it conditions our experience?

We Are Live!
To mark the launch of our newsletter's first issue, we thought and felt it apt to dedicate it to the theme of "First Steps." We each took a stab at the notion of "first step" by looking at the relationship we each hold with it and how that impacts our experiences.
Rosslyn expresses the significance of her first steps; Daryl examines how he transitions smoothly through the countless little first steps. Also, further reading and a simple practice you can take up to explore your own first steps.
Enjoy!
Warmly,
Rosslyn & Daryl
---

POETRY // by Rosslyn
Heavy Beginnings
A tipping point, pivotal in transforming
one state into another,
the step that weighs a whale, containing the propelling force
needed for definition and direction.
A moment of awareness, calling for courage
to enter a new era;
the last step of something, moving
into what seems like nothing.
Mourning the many first steps I surrendered
to procrastination that cradled my fears
in the name of perfection;
the dread of falling
right after my foot lands on new ground, bare
to public scrutiny—shame cripples,
throwing me off balance. I slipped
in noticing the first step
of the hour entering midnight
is made of 3,600 steps.
---
When you're aware of where you are in the present, you will know the next step to take.
Take the first step in faith.
---
ARTICLE // by Daryl
The Rationality of Choice
Recently I got to thinking about my relationship with taking the first step: what it means to me, and the motivations that power it. To me, the first step is all about change. Being human, we only intentionally seek change if it leads to a situation that is better than the current one. As such, I always look at my first step in light of change.
The way I see it, if every choice seems equal—assuming I've already performed my due diligence to weigh my options—then logically speaking, it shouldn't matter which choice I make since all of them are equally good. By taking the first step, I open up new possibilities since each action produces an infinite other knock-on effects that change the next moment. Who knows how my current action will blaze a new path before me? If I can't see the other side of the forest, just chop off the nearest branch and now I see just a little further to make my next decision. Before I know it, I'll be out in the clear.
Maybe that's too optimistic for many. "But what if my situation is so dire now? How can I be sure my choice is the right one?" I hate to admit it but I also cannot know for sure. Once again, I weigh my options to see which one's the best given the current circumstances. It may not be ideal but it sure as hell is better than wallowing in my current predicament. It's like any game: When I'm pressed into a corner, not doing anything preserves the status quo where I'll eventually lose. Only by taking an action, any action really, do I have the possibility of transforming the board state in my favour. If I do, congratulations, I've overcome my obstacle. If I don't, I don't sweat it since it would have been the outcome anyway. The difference lies in taking the chance. 1% of success versus none? I'll take the odds, thank you very much.
To be sure, I, too, suffer from choice paralysis at times. I procrastinate when it comes to starting an essay—I'm an academic—because I fear not beginning with a strong point. But my essay can always be edited, my points refined. At the end of the day, taking the first step is really all about approaching reality rationally. I accept that perfection is a myth, and nothing actually hinges on that single action. There will not be an accumulating snowball careening down the mountainside. Life is one huge (re)iterative moment where I get to correct every step I make. If Life is a journey, that journey is the aggregation of my countless First Steps when I get to choose anew each and every time.
---
Start small. Start with an intention: where do you want to be?
---
FOOD FOR THOUGHT
Approaching new challenges
According to Dr. Robert Maurer, Director of Behavioral Sciences for the Family Practice Residency Program at Santa Monica-UCLA Medical Center,
When you take on a challenge it means you have to leave your safe routine behind. The amygdala in your brain, which likes tranquility, clarity and predictability (as these are good for survival) sets off an alarm, which feels like a block to you.

Setting yourself targets that are easy to reach, like meditating for five minutes each day or clearing away only one of the stacks on your desk, allows you to sneak by your amygdala on tippy toes so that it doesn't set off an alarm.
Through Rosslyn's poem, we get a glimpse of how the first steps weigh on her because of her desire to get things right on the first try. Hence, her first steps tend to feel like a plunge, and if overwhelmed, results in inaction. In Daryl's article, we see how he breaks down his steps into much smaller ones, trusting that corrections can be made as each step forward frees up new pathways.
How about you, dear reader:
What is your relationship with your first step?

What are your tendencies and their implications?

How do your tendencies and the mindset you adopt free you up to more possibility and action, or do they inhibit you?
There's no right or wrong way to go about this. Most importantly, it's about consciously examining our ways and consider if that supports us in flourishing.
Does your way serve you?

How is it serving and/or not serving you?

PRACTICE
Start by noticing your first steps.
What are the new steps you take each day and where do they lead you? Keep a list of these steps you take and appreciate them. Acknowledge your effort for these are accomplishments too.
---
A SLICE OF LIFE
The Power of the Muffin Tin
Oh, do you know the muffin man
The muffin man, the muffin man
Oh, do you know the muffin man
That lives on Drury Lane?
In the past weeks, we've been experimenting with our new toy: Muffin Tin! And of course, to prove its worth, our first experiment has to be with blueberry muffins. With that being a success, we grew ambitious and prepared Sunday brunch with bacon-eggs. and egg muffins. Who knew the latter would be a much easier task. Nonetheless, the experiments turned out great! Not too bad for a first step, huh?
Q: What was the first step for you?
Rosslyn: Buying the muffin tin. An object must be able to fulfill more than one usage before I'll consider purchasing it.
Daryl: Buying the ingredients. It sets me down the path.
Rosslyn: puff? Hahahaa.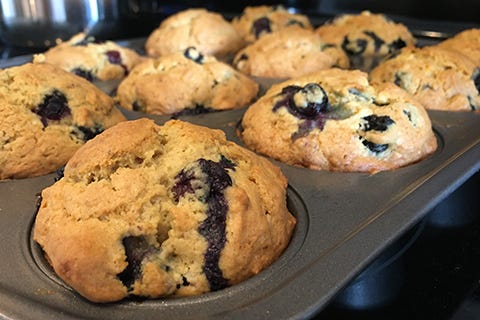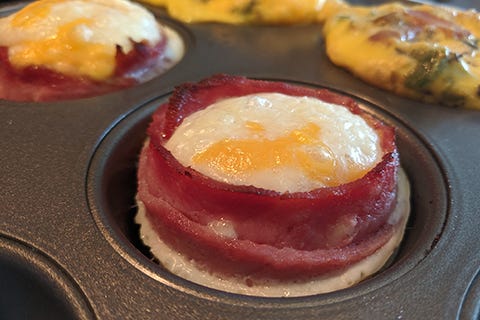 ---
If you relate to Rosslyn's story, will you hold your fears compassionately and allow yourself some space to breathe? If you relate to Daryl's story, will you pause to appreciate your strength and grit? And if both seem distant to you, leave us a comment to share your story.
---
We hope you enjoyed our newsletter, feel free to share it with your friends who may enjoy it as well. Or if you've been forwarded this newsletter and would like to receive future issues, subscribe now.