ISSUE #2: The Passage of Place

Since the arrival of Spring and the coronavirus, many places have been closed to visitors. Though many cities and states have begun their first phase of reopening, some stores are due to shut down permanently as businesses were hit badly, while some schools have decided to remain closed through this year.
Among the homes of friends and families, cafes, schools, libraries, cinemas, places of worship, malls, and so many others, what are the places you missed the most? What do these places represent to you?
In this issue, we bring you the topic of PLACE. We've each picked a place that holds great significance in each of our lives to explore this topic. Read on to find out what they are, what they mean to us, and how they came to be.
Article // Symbolic Space

Article // Conceptual Place

Food for Thought

Poetry // My Hideout

A Slice of Life
Pretty long reads we have for you in this issue, enjoy!
Warmly,
Rosslyn & Daryl
---

ARTICLE // by Rosslyn
Symbolic Space
Once the meaning vanishes, the place dissolves into mere space, awaiting new meaning to transform it into a new place.
A four-room public housing apartment in the city of Singapore carries the label of "Ah-Ma house," a term my cousins and I grew up using. It's the term our parents have taught us, and both our generations use the same term to refer to this particular house. In Singapore, we use the term "house" loosely to generally refer to any living space. "Ah-Ma" is a term of endearment for grandmother so "Ah-Ma house" literally means my grandmother's home.
The above does not necessarily speak of possession though—my grandmother did not own the apartment. We came to associate it with her because that was where she lived, and where we went to visit her. My parents referred to it as "Ah-Ma house" because they wanted to inculcate the value of respect and a sense of hierarchy into me, labeling it after my relation to my grandmother, hence Granny's home, instead of Mother's home. Interestingly, my grandfather was still alive then, yet my grandmother was the point of reference instead. Labeling it as "Ah-Ma house" and associating it with my grandmother felt so natural that this is the first time I'm stopping to notice and ponder over it.
Is home a feminine concept, or is the household a feminine concept? In Chinese Singaporean culture, the term "回娘家" (huí niáng jiā) is used to describe a married woman returning to her birth family, especially to visit her mother. Is this the origin of the home's feminine association? That said, women generally live longer than men; in most families with three generations, children had extended interactions with their grandmothers, and many grew up not knowing their grandfathers. Perhaps, in those households, the homes did belong to the grandmothers.
In my case, my grandmother neither had official ownership of the apartment nor was she the all-powerful matriarch in the household. She was, nonetheless, the symbol of the family. It's for her that my relatives and I gather; it's because of her that these ties were kept going. "Ah-Ma house" wasn't any apartment; it was the apartment I spent most of my early years in, the place I went to be with my grandmother, the shelter in which I could be a little girl again. It houses the memories of my upbringing when my parents were at work, the love and concern Ah-Ma showered me. It was the marker for the close relationship I share with my grandmother, who became the motherly figure for me after my mother passed away.
Ah-Ma was the reason the apartment became a place for me.
Now, what then is "Ah-Ma house" without Ah-Ma? Ah-Ma has passed on, and the only occupants in the house are two uncles, an aunt, and a cousin. Is it still "Ah-Ma house"? How am I to relate to that place now? Naturally, the apartment already feels different without her. The room she used to sleep in, the couch she used to rest on to watch television or nap, the black cushioned chair she used to sit on for meals and whenever she played mahjong. The altar, the shelf above the refrigerator with loose sheets of rough paper for recording lottery numbers, the toilet with grab bars, so many corners and things in the apartment still hold traces of her.
I don't have to physically be in the house for these tears to fall. Projecting the architecture in my mind's eye achieves the same effect. I find myself holding back from further describing the apartment, afraid to zoom in to more details, afraid to be reeled into a grief episode. Calling it "Ah-Ma house" brings Ah-Ma and an empty house to mind. I've come to know that apartment as a place associated with her, a place that is intensely personal to me. It's difficult—I'm not ready—to see the house as full with its new occupants to whom I'm also related. To dissociate the house from Ah-Ma is concretizing the fact she's no longer around. This isn't any easier to bear. "Ah-Ma house" remains in my heart, for now, as an empty apartment full of Ah-Ma's spirit and my childhood memories.
In a similar fashion, the extended family shares a WhatsApp chat group with 16 of us in there. The group description still reads "AhMa 91 - 10 Jun 18 (Sun)," a reminder of the last milestone we spent with her. We were blessed to be able to celebrate her birthday with her one final time in 2019, but that was a low-key event as she had grown much too frail to be up for long. I've been pretty passive in the group chat, yet each time it beeps, the notification reveals the group description, bringing my attention away from the sender to that. Even though it's a virtual space, it has been providing the family—made up of ten households—with a place to connect.
It's a virtual space with no physical demarcations. One might suggest the server housing the data takes up physical space somewhere on this planet, yet that's not where I'm going with this. That physical space holds no significance to us. Rather, what are the boundaries of this space that make it a place for us? This chat group was first created by my cousin years ago to facilitate communications and the organization of festive events. However, in the past couple of years, the messages exchanged mainly revolved around Ah-Ma's care, and details of her hospitalizations. It grew into an information center, a go-to place for questions and issues related to Ah-Ma. Now, it is a place where her offspring congregate, sharing wishes and updates for each other.
A place is a symbolic space—bounded, and imbued with meaning. The associations we make with space transform it into place. The apartment and the WhatsApp chat group took their bearings from Ah-Ma, bringing about their own sets of behaviors, expectations, and connections. In spirit, she held a family of three generations together. For me, Ah-Ma was the symbol of the apartment, and now, the apartment is a symbol of her. If I can no longer refer to that place as "Ah-Ma House," what becomes of my memory of her?
What will happen when the meanings of spaces change?
---

ARTICLE // by Daryl
Conceptual Place
Place, as a conceptual space, is a placeholder referent for what holds meaning for us; they can be spirit, bonds, or relationships.
The initial draft of this article began with a reflection of place being any given space that holds meaning. I had intended to write about a trio of picnic benches placed along a busy junction in the faculty of arts and social sciences where I studied and played hard with a group of friends every day during my undergraduate years. I considered talking about how those three picnic benches—let's call them AS1 because that's the name of the location where they were placed—became a special place to me because of the time we spent there. AS1 meant a lot to me because significant milestones in my life revolved around them: there I met my dearest teacher and mentor, forged real friendships with people who shared a strong love of ideas, and discovered philosophy to which I devoted almost half my life to. Furthermore, it was only a public space in name since it was privatized in spirit; outsiders hesitated to join us after they sensed its members' strong and intense group identity. Whenever I think of the concept of place, I'm invariably led to raise AS1 as a shining example since it was really a common space imbued with meaning to become my place.
However, a recent conversation with Rosslyn about AS1—"You can recreate AS1 anywhere with your friends, right?"—led me to delve deeper into the notion of place. Somehow my aforementioned anodyne account does not properly capture the essence of what place is. Rosslyn's comment hints at something deeper. Perhaps the concept of place—as a meaningful physical space—is more illusory and transient than we normally take it to be. For instance, if AS1 is torn down right now, I wonder if I would be as devastated as I once thought I'll be. Sure, I'll be sad, but is that sadness due to the fact that AS1 itself is no more, or is it because I've somehow lost the nominal referent to all my bonds? Often times, we treat our places as if they're irreplaceable, and seek to protect and preserve them from the winds of change that threaten to erase them. But what are we protecting, really?
Place, as a conceptual space, is a placeholder referent for what holds meaning for us; they can be spirit, bonds, or relationships. At times, it is the space in which we collect and store all the memories that trigger the waves of nostalgia in us; the word nostalgia is derived from the Greek word nostos, which means "a return." When we experience nostalgia, we return to that conceptual space by journeying through the myriad memories associated with it. The physical space isn't as necessary as I once thought it to be. Other times, it is a space that represents a certain ethos, open only to those who live and breathe it. For me, AS1 is both since the relationships forged were deepened as a result of the shared intellectual life of its members.
To be sure, I still oscillate between my initial and new definitions of place. Much as I'd like to think I'm pretty progressive and radical, I must admit that I'm also a creature of habit. So let me return to AS1. Would I be as nonchalant as I made myself out to be if it is torn down now? I don't think so. I still have attachments to that place where I developed myself as a human being while grappling with the struggles of young adulthood. But I do realize that I've visited it a lot less often in recent years, and I wonder if it's because of my newfound insight. When I think of AS1 now, sometimes in my mind's eye I picture me at the nexus from which threads bind my friends and me. As a place, AS1's physicality recedes a little to share the space with its intelligibility.
Ps. To my friends who are reading this, I still love AS1 deeply. But I realize that the destruction of AS1 will not kill our friendship; rather, the death of our friendship will destroy AS1.
---
FOOD FOR THOUGHT
Spaces imbued with meaning
We see how a space imbued with meaning becomes a place in both articles.
In Rosslyn's, the meaning of the place is associated with the physical realm, taking its bearings from her grandmother as the symbol. That symbol bonded people, making the place open for the extended family to gather freely even with its new occupants. Once the physical body (or bodies) vanishes, the symbolic space dissolves, waiting to transform into a new place with its new set of rules.
In Daryl's, the meaning of the place is associated with the spiritual realm. What started as a gathering spot for friends transformed into a place where like-minded people bonded over intellectual discussions. The place became conceptual, upheld by the spirit of intellectual pursuit, which allows the place to be recreated almost anywhere.
Interestingly, how Rosslyn and Daryl went about exploring places coincided with their Enneagram types. Type 5s tend towards concepts, whereas Type 4s, symbols.
On a side note, if you are interested in the Enneagram, you can read more or take the test.
Now, what about you, dear reader?
Pick a place that's significant to you. Consider:
How did you come to know the place?

What meanings do you attach to it? Is the place shaped by its people, intent, or the purpose it fulfills?

What becomes of the place if it can no longer serve its purpose?

How might you recreate the place?
---
POETRY // by Rosslyn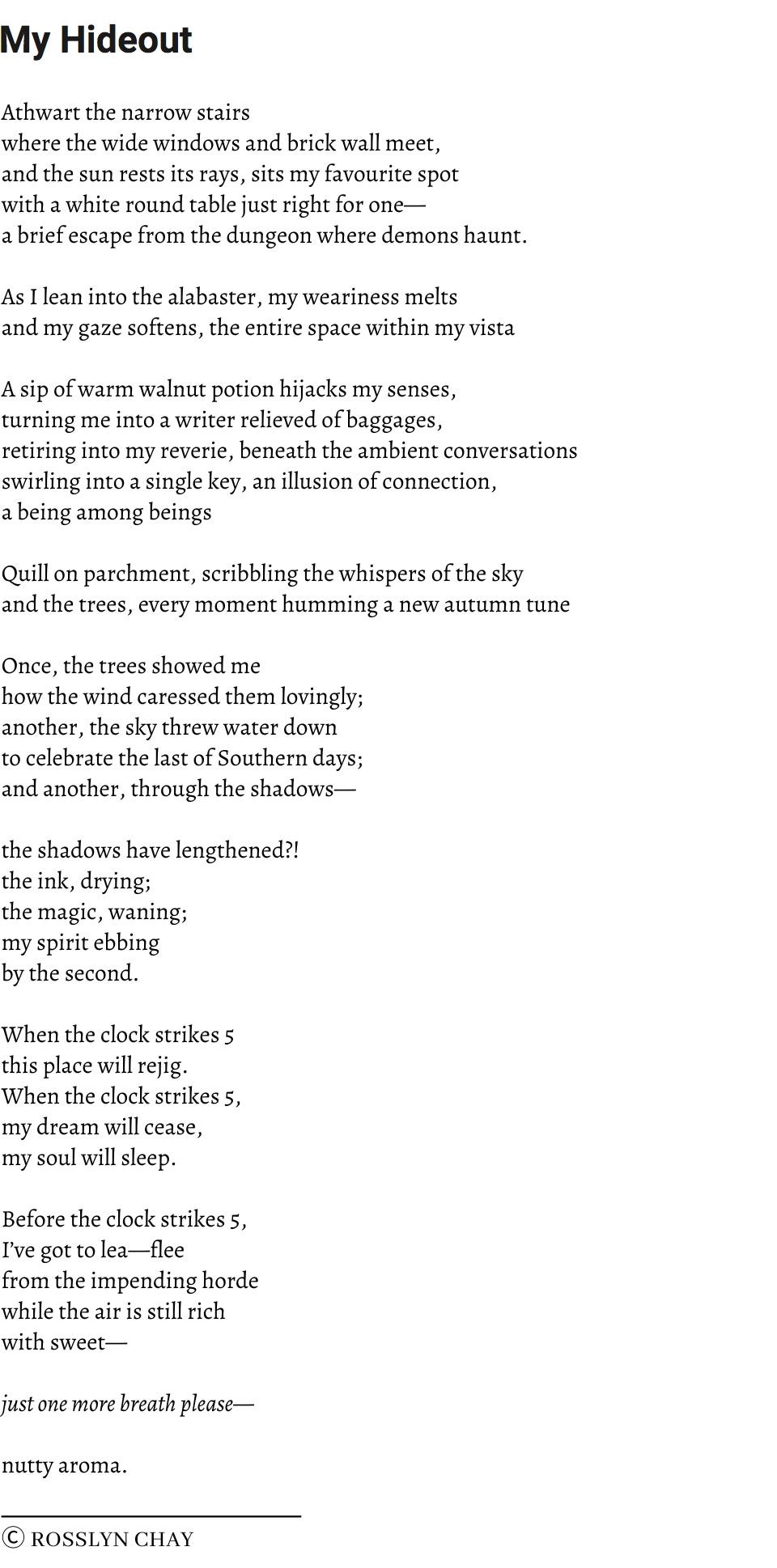 The Colony Club held two identities:
cafe from sun-up, bar from sun-down.
---
A SLICE OF LIFE
Empty Space
There are days we listen to this song on repeat. It's been an earworm for us, and we thought it'll be fun to close the issue with this song. Enjoy!
---
We hope you enjoyed our newsletter, feel free to share it with your friends who may enjoy it as well. Or if you've been forwarded this newsletter and would like to receive future issues, subscribe now.