ISSUE #4: What's in Your Vote?

It's voting season! General elections are happening now in Singapore with the actual polling day just a few days away. And for citizens in the United States, it's another four months before we know if Trump will resume his reign.
We've both been paying attention to the news back in Singapore and as we discussed how each of us decides on who gets our vote, we thought it'd be interesting to pen our thoughts down to examine what is in our votes.
So, we've brought this issue forward to be in time for Singapore's elections on July 10 so you get to read and consider what's in your vote.
Poetry // Confessions of a City Girl: a snapshot

Article // Manifest Expression

Article // Voting Awake

Food for Thought

A Slice of Life
What are the principles underpinning our votes? Read on to find out!
Vote for us,
Rosslyn & Daryl
---
POETRY // by Rosslyn
Confessions of a City Girl, a snapshot:
I was born and raised in a city:
a red dot on the map,
a global port in just five decades
—in debt to our forefathers
I was raised in a culture, competent
and efficient. Economic growth, essential,
in ensuring its place in the world
—keep moving or be left behind
I was raised in a society
that celebrates clockwork gnomes.
Humans, mere numbers, in this big corporation
—upskill or be cast aside
I was raised by a lineage of survivors:
hard labor, their only doctrine,
avoid anything beyond your means.
—grind, opportunities will come.
---
ARTICLE // by Daryl
Manifest Expression
…of humanity, ideals, principle, freedom, and hope.
It is election year once again in sunny Singapore. Yet, the ominous question continues to loom over me as polling day draws near: "Why do you still continue to vote when you know it's pointless? The outcome will remain the same, and the incumbent will, as usual, form the supermajority in Parliament." A valid question.
So why do I continue to vote, and why am I always optimistic about my vote?
I vote because it is the manifest expression of my humanity. We human beings are blessed with the ability to reason. We can debate, consider, compare and contrast, understand what's unsaid in relation to what's said, and formulate universal principles out of our particular considerations. The ability to reason about complex ideas is the sole preserve of us humans—no other living creature comes close—which means this is our defining characteristic. Ideally, when we vote, that vote carries the full weight of the exercise of our uniquely human power to reason. In a democracy, it is both our duty and right to ponder deeply over the choice we are going to make with our vote. It is, therefore, in and through my vote that the power of my distinctly human activity is actualized.
I vote because it is the manifest expression of my ideals. I want to live in a country where being a citizen actually means something beyond the mere receipt of material goods. I want to rest assured that my vote goes towards creating a system where the parts are as important as the whole: not only do I have to consider my own concerns, I have to consider the concerns of my community, and the larger implications on notions of fairness, compassion, and even simply what is right. I want my vote to contribute to a system where no one is left behind, where my fellow citizens do not have to scavenge and scrounge just to make a decent living. I want my vote to be a clarion call announcing my commitment to fairness and equity, firmly declaring to the powers-that-be that trade-offs at the expense of the people should not the first option but the absolute last. I want my vote to be a rallying point for other like-minded individuals who feel trapped because they do not see any possibilities beyond the ones presented. I vote for what I've considered to be right and just, and I hope others who feel the same can take heart and do the same.
I vote because it is the manifest expression of my principle that unsavoury politics should have no sway. When the system is heavily stacked against those who aren't aligned with the incumbent, my vote loudly declares my disapproval. Conversely, my vote is also a ringing endorsement of those who choose to fight cleanly, and a resounding affirmation of those brave souls who labour against the crashing tides that continuously threaten to pull them under. Those who truly sacrifice deserve to be recognized. Just as the vicious deserve to be admonished, the virtuous deserve to be exalted.
I vote because it is the manifest expression of my freedom and my relentless striving against the potential dangers of authoritarianism and tyranny. To be able to vote is to be able to choose. And for my choice to have significance, it has to be meaningful. Voting for a system that seriously considers the concerns of my fellow citizens and me is the safeguard that I will be as free tomorrow as I am today. Voting for people who treat the concerns of citizens as sacred guarantees that vox populi remains vox dei. Yet, it is not only for our freedom but for our children's freedom as well. The moment we sign away our freedom is the same moment we sign away our children's freedom. I want my children to have a choice tomorrow in the same way I have a choice today. It will be reprehensible of me to deny them this opportunity to determine their own paths because I chose to abstain from my vote or, worse, voted carelessly.
I vote because it is the manifest expression of hope. Things will not always go our way, and things may not always be right. That is a fact of life. But, and it's a huge but, my vote represents the hope I harbour in my heart, our hearts, that things can and will get better. Short of participating in politics directly, my vote is literally the singular act I can undertake to try to actualize the glimmer of hope in me that flickers precariously whenever circumstances in my country feel overwhelmingly oppressive. Voting is the vigour I breathe into myself to halt the slide into cynicism or indifference. When I can vote meaningfully, I can believe once again that, instead of perpetuating the inequities plaguing us, we have a chance for political rebirth to make things right.
What's in my vote? Well, it might not be much to others but, to me, it's a whole damn deal.
---
ARTICLE // by Rosslyn
Voting Awake
Knowing my power, ideals, and values.
A single sheet of paper about the size of a postcard holds the power of choice to determine the government that will bring about the future of the nation and its people. In the rigid culture where I come from, many of us may have forgotten that power goes both ways. The government comes to power for the sake of serving its people. It is nothing without them, just like the mind ceases to be without its body to carry it. Likewise, the people exercise their power by choosing the government that'll serve them.
—the vote, a manifestation of my power.

Singapore is known as a safe city with low crime rates and almost no natural disasters. Yet fear pervades, showing up in the tense and stiff bodies of many. At a young age of four or five, we are placed en route to march towards a narrow notion of success. Each step from hereon is crucial. Stray and you may just fall through the cracks. It is a highly efficient and effective system with little room for error. Highly meritocratic with a narrow definition of merit that rewards socio-economic privilege than true merit. Beneficial for an elite, unforgiving for the rest.
I was fortunate and privileged. Despite coming from a regular family, my parents worked hard to put me in an elite school just so I could get a head start in life. I began as an 'elite' who later strayed on to an alternative track, allowing me to see and experience my fair share of what it means to be on either side. I had lived under repressed fear of inadequacy, and worried about falling behind. When the government's primary goal is the accumulation of capital, the risk I ran each day was that I might become part of the trade-off. My mind was in constant overdrive, beating my little one in, "Don't you ever dare rest a beat."
Is emotional safety a trade-off for physical safety? Is that the only way? I wish not for an unforgiving, narrow-minded, single-track system. I wish not for a society that leaves anyone, especially the old, behind because they can no longer contribute "merit" —in the narrowest sense—to the economy.
The cross I mark on the card every 4 or 5 years bears my ideals and beliefs of the world I hope to live in. Fair and balanced, a vibrant and colorful society where people are free to express themselves. An inclusive society that breeds a culture of creativity and collaboration, fulfillment via multiple possibilities. A homeland where people exist as warm-blooded souls, not mere numbers, in the eyes of the system. I still harbor hope to be a part of such a society, amid the gnawing fear that it may remain as castles in the sky.
—the vote, an ark for my ideals.

In my history of voting at the General Elections in Singapore, I have voted once for the incumbent, once for the opposition, and another time, spoilt my vote. When I voted for the incumbent, I voted for fairness at the local level: recognizing the good job done by past candidates. When I voted for the opposition, I voted for fairness at the national level: a balanced government instead of a one-party government. When I spoilt my vote, I voted for my personal fairness and truth: I could not find it in myself to vote for an opposition party that was less than capable, nor vote for the incumbent to support a one-party rule.
How I voted each time changed with my understanding of fairness, inching me towards a clearer definition of the outcome I wanted and the values I held. Even spoiling a vote is a vote. It's not a wasted chance for I made a choice: to lower the support for the candidates in hopes of them fielding better ones and coming up with better plans in the future. This was me standing my ground for my truth: my dissatisfaction with the choices available.
—the vote, a declaration of my values

With each election, I grew more aware of the issues clouding the nation and my fellow citizens. With each cross, I became more awake to my own truth and what I stood for. Wasn't easy of course, it requires self-examination to uncover the motivations behind my choices. But I wasn't willing to fall back on my habitual ways. I work towards acting from a place of grounded awareness and making my decisions awake.
Let's say I have the habit of opposing, I ought to reflect and examine, "For the sake of what do I oppose?" When I'm too used to opposing, I may one day awake and wonder, what am I truly opposing? Similarly, if I have the habit of conforming or sticking to my usual routine, I ought to consider too, "For the sake of what do I conform?" Might I fear change? What does change mean to me? And what might it take for me to strike out? In every situation, it's worth considering: what have I benefited from opposing or conforming, and what have I lost from it?

I am frustrated that being overseas, I lose my chance to vote in this election. But if I could, I'd choose to have a variety of voices to provide perspectives and ideas, to think out of the box, and cover a wider range of possibilities. Especially in times of uncertainty, a system that is flexible and adaptable, creative and collaborative will, help us weather the storm.
Often, we are presented with only two choices; a false dichotomy is often exploited to seed the illusion in us that it's all we have. But is it true that we only have two options? Many times, more viable options will present themselves if we can just ground ourselves and consider the options carefully. Don't be caught in a false dichotomy. Allow yourself space and distance from it to see the full spectrum.
A parting note to my fellow Singaporeans:
Reclaim your power.
Stand not out of fear nor habit.
Stand awake, then assert your ground and belief.
---
FOOD FOR THOUGHT
Knowing why and how we vote
For Daryl and Rosslyn, their votes are expressions of their values. Both have thought about what their vote means to them, and have acted to actualise those ideals they hold.
They may vote differently (dynamic content) each time but their ideals and principles (static form) govern their decisions. They stay awake and alive to the political and social realities that are constantly changing, and as they mature, they grow in the understanding of their principles. We can see that clearly in how Rosslyn's understanding of fairness transformed in each of the three instances she voted.
When it comes to voting, it's very much an emotional choice. As much as we like to think that it's purely rational, passion and emotions have the remarkable ability to creep in. As such, it's important to be aware of our own triggers and hang-ups. It's important to examine for one's self what one's principles are and how they might translate in various situations, in order for us to be open to new options and reevaluations.
Dear reader, a few questions here to help you examine what's in your vote.
What is it based on? What do you stand for?

Is your vote future-oriented (dependent on the outcome) or past-oriented (dependent on past results)?

Is your vote on the personal, local, or national level? Why and what effect might each have?

Has that changed over the different times you voted? If no, why not? And if yes, why?
---
A SLICE OF LIFE
Dear Jamus, we will behold you like how Dr. V looks at you. With love.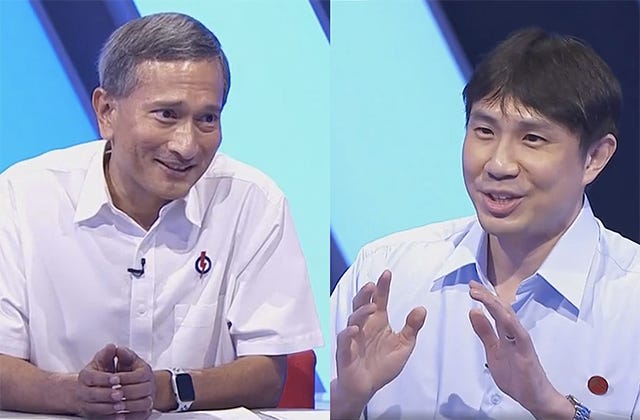 ---
We hope you enjoyed our newsletter, feel free to share it with your friends who may enjoy it as well. Or if you've been forwarded this newsletter and would like to receive future issues, subscribe now.