ISSUE #5: Birthday

Since coming to the US, we've missed celebrating the birthdays of those we care about in person. This year of the pandemic has also disrupted many celebrations. With these in our backdrop, we've picked BIRTHDAY as the topic for this issue, exploring our relationships to birthdays through the lenses of our Enneagram Types.
Article // Birthday Revelations
Read about how Daryl confronts this topic despite his privy nature.


Article // The Anniversary of My Birth
Through anecdotes, Rosslyn reflects on her tendencies and hang-ups with birthdays.


Food for Thought // Blessings


A Slice of Life
As always, we hope you enjoy what we've put together for you, and join in our exploration.
Warmly,
Rosslyn & Daryl
---
NEW TO THE ENNEAGRAM?
It is a model of the human psyche that is principally understood and taught as a typology of nine interconnected personality types. Find out more about how it works.
---

ARTICLE // by Daryl
Birthday Revelations
Birthdays are blessings in the truest sense because if we're growing older, it means we're still around.
Birthdays are an oddity for me. I do enjoy my own birthday but simultaneously try not to make a fuss out of it, often going about the day like any other. Even a simple meal will suffice for a celebration. What matters most is that I know I am spending it with the people I love; somehow, simply knowing that is sufficient to constitute the reality of a celebration and satisfy me. Some would say that my easy-going attitude is possible only because of the deep basic trust I have in my family and friends to celebrate it for and with me. I suppose that has some truth in it; if I never had the confidence there's always someone to celebrate it with me, I might not be so relaxed about it. Yet, that only presents one aspect of it. Owing to certain circumstances, my relationship with birthdays—not just my own—has morphed into something less insular, that is, less about myself, than it is about others, especially those whom I love.
One reason would be the time I've spent abroad. Since 2008, I've moved to the US twice to further my studies. By the time I'm done in 2023 (hopefully), I would have spent 8 of those 15 years abroad. Being abroad leads me to appreciate more deeply the birthdays I have had to miss with my family, especially, my niece's first birthday recently. While Zoom has made it possible for me to 'attend' these birthday celebrations, the warmth of familial companionship that issues from being there in person is difficult to replicate. All I can do is take heart in the fact that, well, I am at least able to be present to sing the song and be with the celebrants on their special day. If I can't participate fully in person, I can participate fully in spirit.
I don't take my attendance lightly. It's a massive privilege to be able to celebrate birthdays with my loved ones. A friend once told me how she would treasure every connection she made with her customers-turned-friends because "you never know when you'll ever see them again." In the decade since, the loss of three teachers, two grandmothers, and two friends have drilled that truth deep into my being. It's true. You just never know. Birthdays are blessings in the truest sense because if we're growing older, it means we're still around.
As I blow out the candles on my cake amidst the embarrassment—I'm extremely bashful when the spotlight's on me—when everyone's singing the birthday song for me, I always take a moment to remember the faces around the table, and wish good health and joy for all of them before mouthing a "Thank you" in my heart of hearts.
And I'm glad this week's theme is on birthdays since it's Rosslyn's birthday on Monday. As I wrap up this article, I am even more certain that birthdays, at their core, are for the sake of celebrating people. Happy advanced birthday, my love. I'm thankful to have another opportunity to celebrate you.

Addendum:
After Rosslyn finished reading my article, she commented that it is markedly different from my previous ones; my presence seems withdrawn that it almost feels as if I'm not invested in writing it. In our ensuing discussion, one possible reason why this is so dawned on us. Typically, an Enneagram Type 5 is disconnected from his own needs. It's not that I wasn't invested in this piece. Contrarily, I was invested enough that, in my mind, I was living the scene of talking to someone else about my birthday and it made me uncomfortable. (Apparently, Type 5s like to keep their birthdays a secret.) This explains my withdrawn presence: I actually felt bashful while discussing my relationship to birthdays and it showed in my writing.
But what is more telling is why I put the needs of my loved ones above mine. Apparently it could be a self-preservation instinct born out of my basic fear of being helpless, and it drove me to do what it takes to assuage that fear: the belief is that if I can preserve the well-being of my loved ones, I won't have to bear the anguish I'll experience should their well-being be compromised. Naturally, not all Type 5s will react in the same manner but the motivations for their actions are generally the same.
Writing this piece has turned out to be more insightful than I had originally expected. On one level, it let me better understand the Enneagram. While I'm still skeptical about how scientific its methodology is and the truth of all its conclusions, it seems to provide a plausible analysis of human behavior that goes beyond all the other silly types of personality tests that are static in their outcomes. The Enneagram goes to the "Why?" instead of merely remaining at the "What," which makes its analyses more alive to the freedom inherent in human nature. This, alone, makes it worth my time to not dismiss it.
On a deeper level, I came out with a clearer picture of my own motivations with respect to my actions. While I still think sacrificing for my loved ones is a noble endeavor worthy of a Great-Souled Man¹, it has shown me that it's possible that there are some basic fears in me I've yet to uncover. All the more important, then, it is for me to get to know myself. Sapere Aude!

¹ In Aristotle's Nicomachean Ethics, the Great-Souled Man is the embodiment of all the virtues and what shines most brightly in him is his nobility/beauty (the ancient Greek word for noble and beautiful is the same.)
---

ARTICLE // by Rosslyn
The Anniversary of My Birth
Celebrating the descent of a soul into the human realm.
Amongst all the days of celebration, the birthday is the one that is seated on the throne of my heart. Not just my own but birthdays, in general, are significant to me. It marks the "coming-into-the-world" of a soul.
To better reflect on this topic and, given how it hits many of my sensitivities, I've decided to write this in the third person to allow myself some breathing distance from it. Here's a little anecdote to begin with:
In 2010, Rosslyn flipped a switch that was near suicidal for her: setting her date of birth on Facebook to private. What this meant was her friends who she's connected with on Facebook would no longer receive any notifications of her birthday when the date is near. She naively thought it a fun experiment as she wanted to see which of her friends remembered her birthday.
Boy, was she devastated that year! Her Facebook timeline turned out clean. Fortunately, and gratefully, she had a handful of close friends and family members who needed no reminders from a social media platform. Why did she do that? Why did she inflict pain on herself? That was such unnecessary drama.
As I recount and share this story now, I can laugh at my absurdity. This behavior is such a classic for my Enneagram type. I name this the hide-and-seek behavior. In the tension between longing for connection and fearing disappointment from a lack of connection, I withdrew into hiding, hoping people would find me. Many people refer to this as one of the melodramas of the Four. And yet, what the Four wants is to be loved for who and what she is. I was so terrified of being disconnected from others that I would rather withdraw first than face the potential rejection. The intensity of the heartbreak from a disconnection caused me to think it'd break me. So, by withdrawing or rejecting herself first, a Four softens the blow for herself.
Hide and seek
I make myself small 
so I can laugh it off 
when I'm not seen, claiming 
I've won in the game 
of hide-and-seek.

In the years bookended by her mother's passing and her spiritual awakening, Rosslyn lived under the illusion that her existence was not welcomed in this world. Her life was filled with insecurities and occasional dips from feelings of self-hatred. Birthdays used to be the days she dreaded because of the story she had told herself repeatedly, "I'm an unwanted child." Her mind had often brought her to the questions, "Why did you come to this world? Why are you still here? What have you accomplished in the past year?"
A terrible way to live.
This is one of the existential issues an unhealthy Four might experience in her self-absorbed state. Many tend to misunderstand what it means for a Four to be self-absorbed. I find it's important to make a distinction here. Being self-centered is being focused on things that only have to do with one's self; being self-absorbed is being focused on the interior life of thoughts and emotions. Though on the exterior, it may appear that the unhealthy Four is self-centered or selfish, very often, she is simply overwhelmed by the horror stories her mind has painted and imprisoned her in. She drowns in her own interiority that she loses even her sense of self and reality.
Rosslyn gradually moved towards stepping out of her old narrative in recent years. Still shrouded by the same self-existential issues, she decided to treat herself better. Birthdays then became the special day when she set herself free, allowing herself to rest and indulge. Perhaps on this day, she could allow herself to live for herself. That manifested as the three requests she has of her partner—the 3Cs: card, cake, and companionship, which boil down to a handwritten note (something her Mum used to give her), the blowing of a candle to mark the close of the old year and the opening of the new year, and attention—undivided attention.
Each of the items spoke to her heart in affirmation of her significance and set her fear of abandonment at ease. That was where her core desire as a Four showed up: the need to be significant. Along the way of growing up, various Fours had different childhood experiences that conditioned them to believe that they needed to be significant to be seen and loved. Also, Fours carry a profound fear of being abandoned due to a primal loss they had suffered. Though Rosslyn cannot recall a specific event that occurred, she could feel the aching in her heart when she's not seen, and her compulsion with needing to be special or to "do special" to ensure she wouldn't be abandoned. That was how Rosslyn, the little one, learned to survive.
This could be why the top 2 love languages of a Four are words of affirmation and quality time. Rosslyn, in her Four-ness, lusts for attention. She yearned and still yearns, to be seen and cherished for who she is, not what she has done.

When it comes to Daryl's birthday, one of my greetings to him will be my appreciation of his existence. His birthday is a special day for me because that is the day he came into existence, and I am so grateful he came to this world. That's also often how I feel about my closed ones. I guess I've been saying to others that very affirmation my heart longs to receive.
Now, I'm glad and relieved I could say it to myself. I don't need a birthday month of celebrations, I only need that one day. The birthday is an anniversary of the day I broke into my first cry to draw my first breath. And I wish to openly and gloriously celebrate my existence.
Birthdays need not come with lavish parties nor celebrations. To me, the most precious gift I could receive is presence.
To you, dear reader, thank you for gifting me your precious time to read this. I feel grateful and blessed we are part of this world.
---
FOOD FOR THOUGHT
Blessings
Every birthday is a gift. Every day is a gift. ~Aretha Franklin
Through the articles Rosslyn and Daryl have shared, we get to appreciate the different takes they each have on birthdays and how that possibly relates to their Enneagram types. The common thread seems to be how they hold birthdays to be blessings.
Now, what about you, dear reader, what are birthdays to you?
Consider:
How would you like your birthday celebrated (or not celebrated)? Why is that so and how did that come about?

What has been your best or worst birthday? What about yourself might you learn from it?

Write a birthday card to yourself. What wish might you include?
If you are interested in the Enneagram, write to Rosslyn to discuss more. You can also read more or take the test.
---
A SLICE OF LIFE
Just for fun
Check out more @Enneagramandcoffee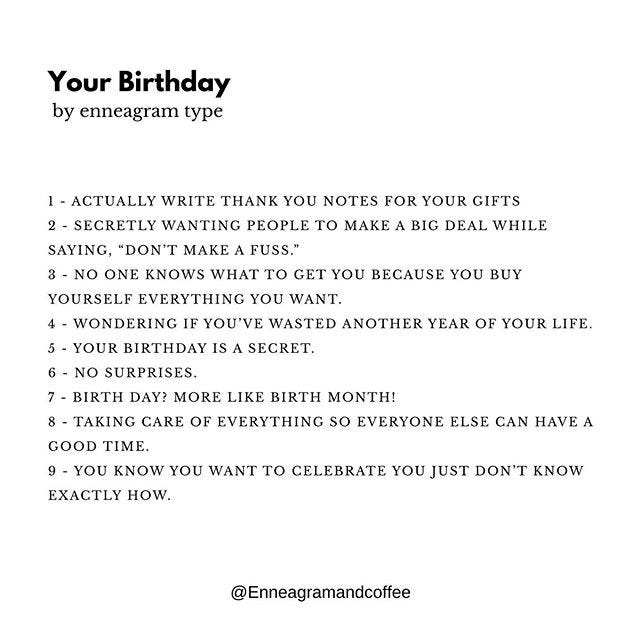 ---
We hope you enjoyed our newsletter, feel free to share it with your friends who may enjoy it as well. Or if you've been forwarded this newsletter and would like to receive future issues, subscribe now.