ISSUE #7: Conversations through Time
with Vincent van Gogh

Welcome to Conversations Through Time, a new feature in The Bridge Press! In Conversations, we will pick an artist or musician, then each explores a piece from his or her collection of works. The objective is not to provide a critique of the artist's work but to discover, reflect, and articulate how we are each impacted by it. How do we experience a piece of art or music, and how will our beliefs and assumptions, or our current circumstances and environment shape how we interact with it?
We've decided to begin with Vincent van Gogh for this feature. Read on to see which pieces we've each picked, and join us in this experiment!
Response // Shoes
The heart-centred went on a mental exploration: Rosslyn's rumination on life and beauty from perceived filth.

Response // Woman with a Mourning Shawl
The mind-centred went along with his heart: Daryl's experiment with an explosive and emotive piece.

Poetry // Standing with Vincent
A poem inspired by the painting "Wheatfields under Thunderclouds"

Food for Thought // Connections from without and within

Resources
Warmly,
Rosslyn & Daryl
---
If you're enjoying your coffee while reading this, we'd love to have one with you too!
---
RESPONSE // by Rosslyn
Shoes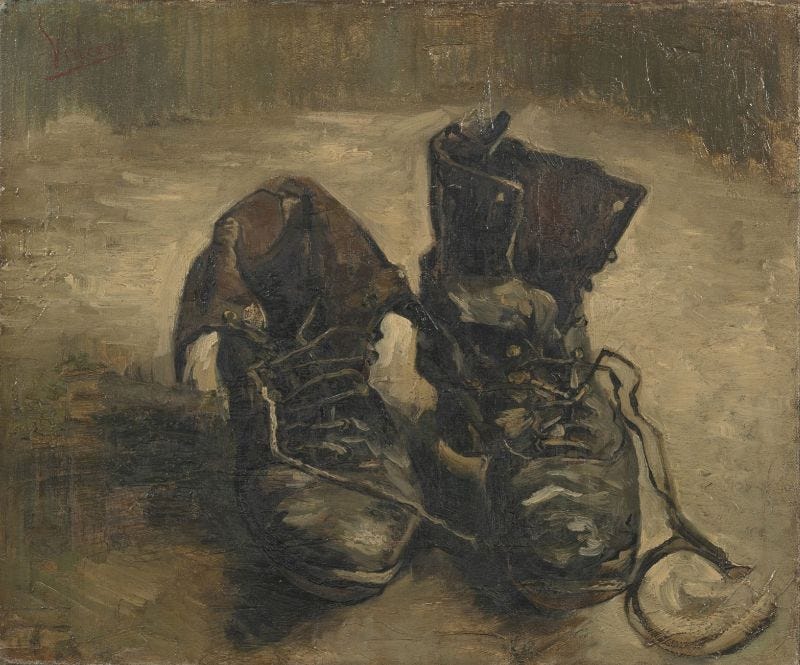 This painting stood out for me amongst van Gogh's collection because it doesn't come across as a typical van Gogh painting. The little I've seen of his paintings are mostly vibrant and colorful, such as Starry Night, and Sunflowers. I wouldn't have thought of this seemingly dull painting of a pair of worn-out boots as something from van Gogh. Perhaps a painting which I am completely foreign to will offer me a better chance of getting to know myself.
My initial impressions of it weren't exactly great. On first look, it's just a painting of a pair of boots. Filthy, dull with its muddy colors, I can't say I'm impressed by it at all. And ­this is where my amazement began! A successful depiction on the painter's part perhaps, it produced a similar reaction in me as a real pair of dirty boots would. In my head, my critic was chiming in, "Who wants to look at this ugly, mundane object?"
The first time I had the opportunity to spend time with this painting, I was in a state of fatigue which I was unaware of. As I remained present with it, the dull shades fell especially heavily on me. Such was its gravity. Torn, tattered, and tired, it brought out the weariness in me. I teared in relief. Being present with the painting allowed me to get in touch with myself. Was it a projection of my interiority, or was it a true connection with the emotions conveyed through the image? I still have no scientific explanation for it, but, through it, I was attuned to my needs in that moment.
Beholding it a second time, it remains torn, tattered, and tired but it weighed differently. Same object, different experience. My mental and physical states are not weary which allowed me to look at it in a different light. I am also more open and curious about what the painting has to offer which helped me be in a different relationship with it.
My poetic mind began to wonder how the boots came about. What's the tale behind this pair of filth? Uninspiring, hardly a mark of beauty. What lands might they have traveled? What sort of person was the wearer, who seemed to have stripped the boots off in haste, laces disheveled? As I ponder, I am feeling a slight hint of desire to write a poem, and the desire brings about some excitement. That's the electric feeling when struck by inspiration. Well, I shall be determined to stray not from this article for the time being.
The brief description of the painting reveals that van Gogh had "bought old work shoes at a flea market […] and walked them through the mud in them until they were filthy. Only then did he feel they were interesting enough to paint."
"Say what? Say that again?" I'm stumped. What a beautiful story. I find myself in a mix of awe and disbelief.
That is how human life should be, or at least how I think I want mine to be. There is no beauty in life clean and pristine. It's human nature to seek safety, in fact, all living beings gravitate towards pleasure and away from pain. I am aware of how I have made certain choices in life to avoid pain and discomfort, but I sure would not want my life at its end to remain a blank canvas. The thought of an unlived life brings more pain, yet it's often forgotten in view of immediate discomfort.
This painting is a reminder of the life I seek. It helped me see and articulate my beliefs on how life ought to be. It is not merely of a filthy, muddy pair of worn-out shoes. It now represents to me a life well-lived. It is a pair of shoes that had served well, allowing its owners to walk through puddles and debris, protecting them from work hazards, and more. And it speaks to me of how my entire being (body, heart, mind, and more) exists to serve my soul (the wearer) to fulfill its purpose.
Beauty isn't in the light. It is in that which we cast light upon. When we inject meaning, that which we gave meaning to comes alive. Which brings me to the question, "Can I look at my life, the pretty, dirty, and unglamorous parts, and behold them with appreciation for having been a part of my life?" I don't yet have an answer to it but I will carry on my quandary with it being "How might I appreciate the whole of my life?"
---
RESPONSE // by Daryl
Woman with a Mourning Shawl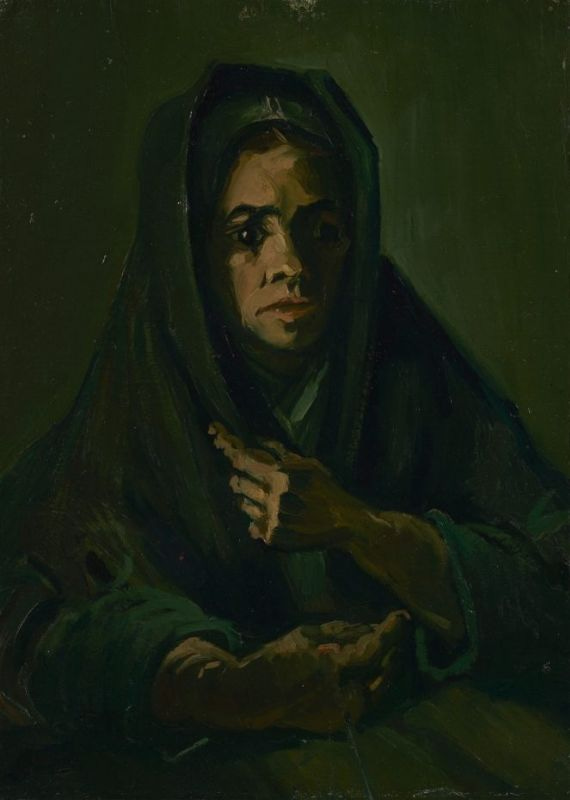 Requiem aeternam dona eis, Domine, et lux perpetua luceat eis. Te decet hymnus, Deus, in Sion, et tibi reddetur votum in Jerusalem. Exaudi orationem meam, ad te omnis care veniet. Requiem aeternam dona eis, Domine, et lux perpetua luceat eis.

Grant them eternal rest, Lord, and let perpetual light shine on them. You are praised, God, in Zion, and homage will be paid to you in Jerusalem. Hear my prayer, to you all flesh will come. Grant them eternal rest, Lord, and let perpetual light shine on them.
Her eyes stare blankly into the distance, oblivious to the introit progressing without hesitation, without doubt. Just a constant pace that doesn't seem to abate. Towards what, I wonder. It doesn't matter to her. Even as the bass section marches on inexorably to some unknown end, her haunted eyes remain fixated on something behind me. Before her, I am but a piece of glass to which she pays no attention.
The soprano launches into her aria, dispelling the solemnity and replacing it with a heartfelt plea pregnant with longing for the Lord, "May the departed find eternal rest by your side." As the timpani marks the closing of the introit, the bass returns to the forefront to lend weight to the soprano's plea, before trailing off as nothing seems to rouse the Lord. Uncertainty marks her face now, is there a Zion for her dearly departed? And if there is, will he be admitted? Her hard features betray nothing more beyond the slightest of expectations. Yet, nothing is ever certain as far as faith is concerned. Perhaps, that's why it's called faith. To believe in spite of, not because of.

Kyrie, eleison. Christe, eleison. Kyrie, eleison.

Lord, have mercy on us. Christ, have mercy on us. Lord, have mercy on us.
Once again, the bass opens with a resounding Kyrie, paving the way for the rest of the chorus to participate with increased urgency. The dead needs your mercy, O Lord! Don't deny them! Thoughts flash rapidly through her mind, "Can it possibly be…or won't it…? Maybe there is…but…." The chorus rests in a beat echoing an eternal moment. Her anxiety heightens while she waits. Nothing.
She waits.
Still nothing.
Suddenly, the chorus launches into one final resounding Kyrie. "Lord!" She vainly tries to assuage her anxiety swelling with that ardent plea approaching its crescendo. E-Le-I-Son. "Have mercy on us," she pleads. What more may I proffer?

Dies irae, dies illa Solvet saeclum in favilla, teste David cum Sibylla. Quantus tremor est futurus, quando judex est venturus, cuncta stricte discussurus!

Day of wrath, day of anger will dissolve the world in ashes, as foretold by David and the Sibyl. Great trembling there will be when the Judge descends from heaven to examine all things closely.
DIES IRAE! DIES ILLA! SOLVET SAECLUM IN FAVILLA! TESTE DAVID CUM SIBYLLA! She recoils and grips her mourning shawl more tightly together. What could this all mean? Isn't the Lord supposed to be merciful? She's unsure what she should—no, could do. Her heart pounds in tandem with the frantic pace of the chorus' reminder of God's wrath as foretold in scripture. All will be scrutinized, none will escape His judgment. She braces herself, willing herself to remain for the sake of her love. Steely resolve buffeted by awe, she plants her fist firmly on her chest in a feeble attempt to soothe the relentless pounding in her chest threatening to cut her breath short. There isn't much she can do to effect an outcome but this is it. She must keep faith.

Confutatis maledictis, flammis acribus addictis, voca me cum benedictus.

When the accused are confounded, and doomed to flames of woe, call me among the blessed.
Doomed to flames of woe! Hellfire consumes those who are accused. Her right hand instinctively draws in, shielding her exposed abdomen. Is this what awaits her beloved? No. She refuses to believe that. Her eyes, although still wracked with worry, are no longer helpless as she sees the path revealed to her. She must remain steadfast, she must persist. This is no time to deviate from what she has believed in all her life…

Oro supplex et acclinis, cor contritum quasi cinis, gere curam mei finis.

I kneel with submissive heart, my contrition is like ashes, help me in my final condition.
Contrition is all she has. Contrition is all she has to offer. What she has done cannot be undone, and all she can give in return is her promise of a stronger faith to atone for her wrongdoing, past, present, and future. Her right hand, still firmly poised in front of her abdomen, grips the rosary ever more tightly. "I kneel with my submissive heart, O Lord, help me, please, in my final condition."
Lacrimosa dies illa, qua resurget ex favilla judicandus homo reus. Huic ergo parce, Deus, pie Jesu Domine, dona eis requiem. Amen.

That day of tears and mourning, when from the ashes shall arise, all humanity to be judged. Spare us by your mercy, Lord, gentle Lord Jesus, grant them eternal rest. Amen.
Something stirs. Barely there, but it catches her attention. A wisp rises. She wants to lean in but the fear of disappointment restrains her. Her mind tells her she was heard yet her heart quivers. What if she's wrong? By now, the rosary has left an indelible impression in her palm but she feels nothing. She moves nary an inch as she continues observing the rising wisp. Perhaps, it was not for naught after all. She continues to observe with wariness but now she knows it down to her bones. Her left hand loosens and falls slightly, exposing the belief in her heart. This is it.

This is probably the most uncharacteristic piece I've ever written. I chanced upon this piece by van Gogh and it reminded me of Mozart's Requiem. Honestly, I'm not the biggest fan of van Gogh's style. I just can't get used to his use of colours (especially the greens and yellows) and I wondered if I would find a piece by him that would speak to me. But this portrait—Woman with a Mourning Shawl—called for my attention. Her deep-set haunted eyes partially veiled by the shadow of her shawl was simply too arresting. Her face is a mixed landscape of apprehension, anxiety, relief, and disbelief. What a kaleidoscope of emotions! I thus decided to listen to my favourite movements of the Requiem while opening myself to van Gogh's marvelous composition. While this appears to be fiction, my experience is real. I imagined what the woman's experience might resemble and found myself becoming the woman. The wisp she saw? That's how I imagined the soul rising from her beloved. The painting was the perfect conduit for me to give voice to my experience of the Requiem.
Before I pen off, what was most curious was hearing my own heart pounding through my earphones, through the requiem. Yet, it held steady throughout. I did not notice when it started but when I did, it became apparent how gripped I was by the entire experiment. What a new experience! I'm glad I saw this through, and I hope you'll have as much fun as I did.
---
POETRY // by Rosslyn
Standing with Vincent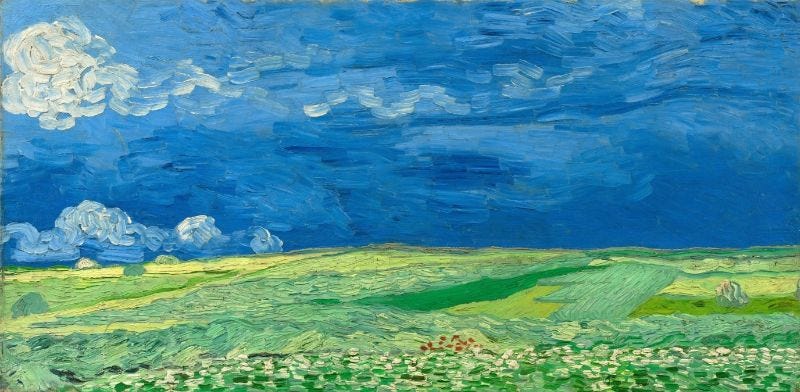 thundering taunts, screeching squalls
thirsty fields of wheat wagging
caught in the marriage of terror and glee
shuddering in ecstasy
undecided
at the looming gloom
to frolic or drench
to be with or in this rain?
---
FOOD FOR THOUGHT
Connections from Without and Within
By being present and open to the portrait of the woman, Daryl made new connections that he had not thought of before. The combination of Mozart's Requiem along with the Woman with a Mourning Shawl brought him into a place of flow and bodily experience. It transformed his usual writing style, resulting in a surprising experiment that was bold and delightful.
If we can be present and open to the world around us, who knows what new connections we might uncover?
In Rosslyn's case, the painting of the worn-out shoes helped her examine the judgments she holds and the ideas she has on beauty. It brought her to uncover her biases and hopes for the life she seeks. She was present to how her emotions at different times contributed to her experience of the same object.
It's not solely the world exterior to us, but our interior too, that colors our experience of the world.

How about you, dear reader?
What might arise for you when you allow whatever that's present before you to guide you? Head over to the Van Gogh Museum and allow the artworks to impress upon you.
Browse through the paintings and pick one that speaks to you. Spend some time with it, then sense your life and current situation, all that is happening around and with you, and consider:
What is the artist expressing to you?

How is the art calling out to you?

How are you impacted?

What insight(s) are you learning about yourself?

Who are you? Who might you become?
---
RESOURCES
---
We had fun working on these issues but a little caffeine injection goes a long way. 😘
---
We hope you enjoyed our newsletter, feel free to share it with your friends who may enjoy it as well. Or if you've been forwarded this newsletter and would like to receive future issues, subscribe now.